Forbidden Desert Treasure Game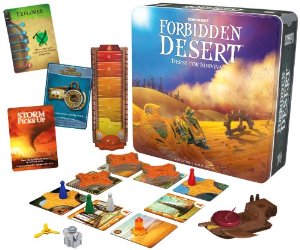 Having a family game night is always fun at our house.  And an exciting game we often play is Forbidden Desert (not to be confused with Forbidden Island). The cooperative game allows us to all work together in order to try and endure a merciless sand storm, while at the same time retrieve a lost treasure to use for our escape!
The story behind game play sets the stage wonderfully.  Players are told they are a team of adventurers who are originally sent to excavate an ancient desert city to recover a legendary flying machine.  However, during this mission, an unexpected sand storm appears, and their helicopter crash lands into the desert.  Now their only hope for survival is to quickly find the pieces to the lost flying machine, rebuild it, and use it to escape the storm!
The whole team will lose if any one of the players runs out of water, or if the unrelenting sand storm buries the city with such an overwhelming amount of sand that they too are buried.  If this happens the team becomes lost relics themselves! The Thrills!
Our first time playing the game was a learning experience.  It took some time to understand the strategies and realize the mechanics of the game.  We died in our confusion and were left forever under sand in the Forbidden Desert. But we returned!
And in our next game we were determined to beat the rising sands and succeeded.  We continue to pull out Forbidden Desert: Thirst for Survival to play. The challenge to win is ever changing and each game brings different obstacles to overcome.
Working together as a family is also ever changing, and although we may not always succeed in finding and piecing together the buried flying machine treasure in order to escape and win, we do always find treasure by spending time together as a family.
The game is recommended for ages 10 and up and for 2-5 players.  But since the game is a cooperative game, younger children, being guided by the older players on the team, can easily play along.
I actually got this game for one of my children one Christmas.  'A Game' is one present my kids know they will always get. They don't know which game, though, and so it is still always a surprise!
Games provide fun all year round and so I love giving the gift of a game.  If you like challenging adventures, Forbidden Desert might be for you!  Have fun and best of luck!
Always Treasure the Adventure!
Follow MW on Social Media: