Featured Question with Forrest: The Bullet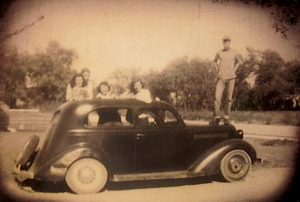 I was first introduced to The Bullet in Forrest's Too Far to Walk book. I loved how Forrest tells in his story that Peggy named it The Bullet because she thought his (new to him) 35' Plymouth was shot.
Every time I think about that it makes me smile and feel better about my own first car. It was also shot; but aren't first cars supposed to be? Peggy's clever name makes the memory of those 'bullets' ever more special for all of us who had one. I can now say, my 'blue bullet', and feel some pride. A name can do much…lol…
As the question below mentions, Forrest wrote a scrapbook recently about the Return of the Bullet. Forrest had shared in Too Far to Walk how 'The Bullet' had mysteriously gone missing and he wanted it back!  A double for it was wonderfully found!
The past and present photos of the car display a true joy in both.  I love the similar poses.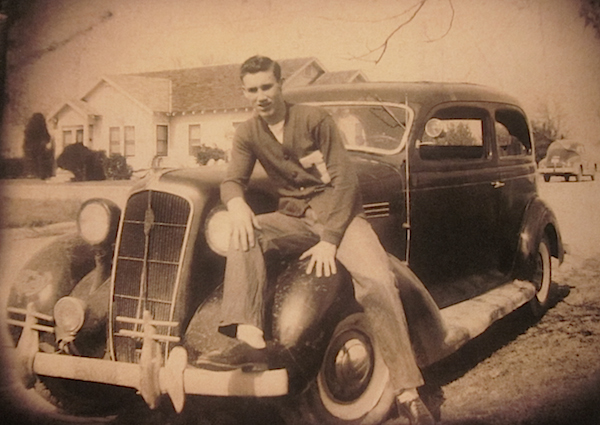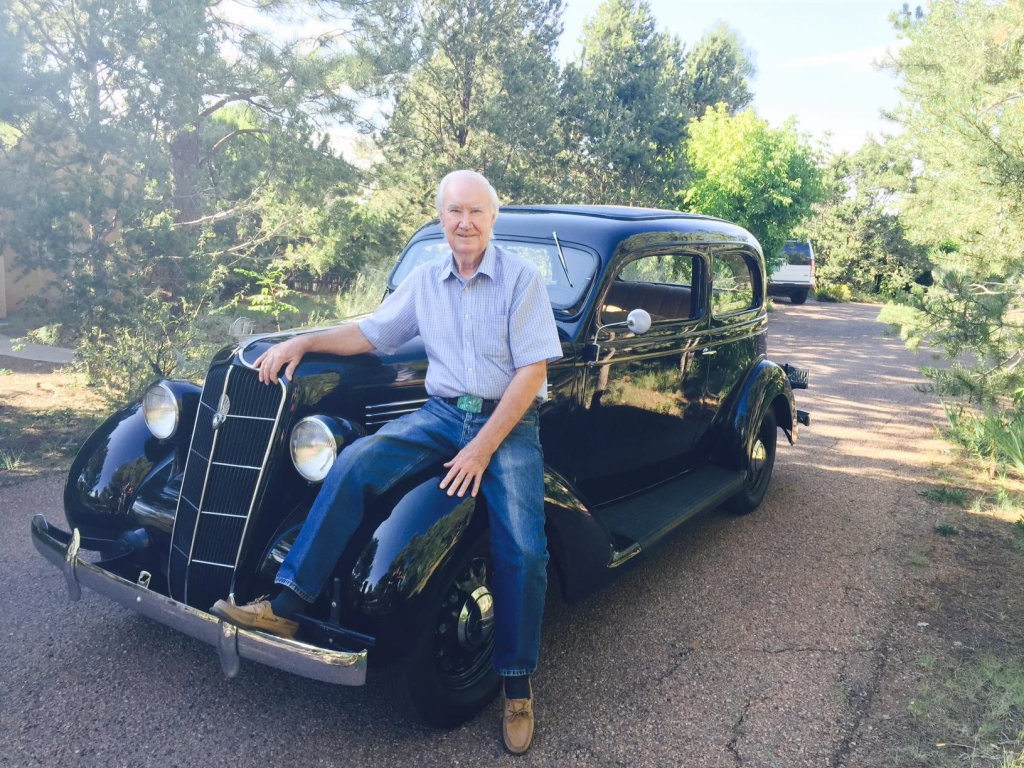 Now the question:
Mr. Fenn,
I saw the scrapbook and pictures of Bullet's return home, and was wondering if you have any plans of driving down memory lane… so to speak. And where would you and Bullet most like to go?
Mike
Thanks Mike.
We searched a year for the bullet (actually its twin brother) and finally found it in Maryland. We shipped it to Santa Fe because the tires are 48 years old. Although the treads are good, the rubber has hardened and we thought it imprudent to drive it to this distant place.
I helped Peggy into our new 1935 Plymouth. Without a word, we turned left and drove out The Old Santa Fe Trail toward Canoncito. It had been 65 years since the two of us had ridden in the Bullet. With no power steering or power brakes, and no air conditioning, it brought back memories of our first ride in the Bullet.
It was about 1946 when I was 16 and she was 14. Although we are now 85 and 82, the thrill still lingers unabated. Thanks Mike, for reminding me. F
If anyone has any more questions about the Bullet, you have the opportunity to ask them at Forrest's book signing on September 14th.  Another amazing event and book for sure!!
The book is entitled: Leon Gaspard- The Call of Distant Places
Written by Forrest Fenn and Carleen Milburn
Autograph Party
Monday, September 14th
At the La Fonda Hotel
Santa Fe Room
5-7 PM
.
And I thought it would be interesting to know what everyone's 'first cars' or amazing 'Bullets' were- if you would like to share and even include a story about it if you want? 
Follow MW on Social Media: