Featured Question with Forrest: Favorite Fly Rods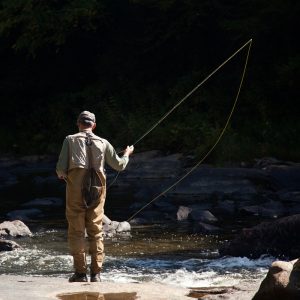 Dear Forrest,
I was a fishing guide a few years back and there were many who preferred using certain fly rods over others. Do you have a favorite type of rod/brand to fish with? ~ matt
Matt, when I was a teen I saved and saved to buy a Granger Victory split bamboo fly rod. At $25, it was way beyond my budget, but I just had to have it. Although it is now retired, it occupies a place of honor in my fishing cabinet.
In rods and reels the magic name in those days was Hardy Brothers, but I couldn't afford those things. Once, when I was in London on art business, I went to the Hardy Brothers store and just wandered around – looking. The Hardy name is like Mahatma to me. f
Best of luck with The Thrill of the Chase and all that you seek!  Treasure the Adventure!
Follow MW on Social Media: