Featured Question and Weekly Words from Forrest: Which Direction?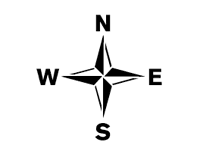 Complete list of Weekly Words can be found here:
The Weekly Words for April 29th, 2016 are as follows and combines with the following Featured Question:
Mr. Fenn,
Which direction does the Blaze face? North, South, East or West? Curious. Foxy
I didn't take a radial off of the blaze Foxy. I'm thinking it may not be any of those directions. f
Best of luck with the Thrill of the Chase and all that you seek!
Other links of interest:
Six Questions with Forrest Fenn (2013)
How to Solve The Thrill of the Chase?  (Discussing Poe's Gold Bug Similarities)
Follow MW on Social Media: