Featured Question and Chatting with Forrest Fenn: Indian Doll Collection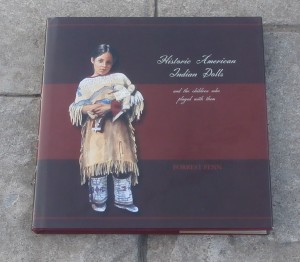 Before Forrest Fenn published The Thrill of the Chase, which includes a poem consisting of nine clues to lead a searcher to his hidden treasure chest of gold, he published 7 other books.  One of which is entitled, Historic American Indian Dolls (and the children who played with them).  Although leading to a different type, this book guides a person to treasure too.  The treasure of a collection.
Forrest carefully describes and generously shares images in his book on each of the precious Indian dolls he held in his care.  I loved the story Forrest tells on when he was first inspired to write about them:
"So, as I sat there past midnight in the solitude I had grown to treasure, I heard a different sound, faint but somehow compelling.  What could it be?  I thought.  Beside my desk at banco level there came infrequent whispers form the failing fire, but they could not have been the cause of my distraction.  Then I glanced over at the dolls.  There were crowded on a table against the west wall, all 58 of them, and they staring at me as if they couldn't believe I was ignoring them.  Suddenly I was convinced that I was seeing disappointment in their eyes.  Was it their voices I had heard, quietly begging me to tell their story?  It was at that instant that I decided to write this book."
That paragraph is one of my favorites, and when I walked into his office, the dolls were one of the first items I noticed.  They have a silent presence that speaks loudly.  The friendships, the smiles, the comforts each one gave to a child; and the skills, the care, the pleasure dedicated in making them, emits an energy that can't be missed.
It is true, if you listen and look attentively, at anything, secret treasures begin to reveal themselves.
As Forrest sometimes calls them, 'The Crowd of 58' began to tell their secrets to him as he picked each one up to write about them.  I won't tell them all.  Only one.  The mysterious pocket with treasure. Of course.
While studying an 1885 Arapahoe doll, Forrest shares in his book how he felt something hard under what was an assumed faux left breast pocket.  However, further investigation revealed an 1842 dime had been secretly hidden within.  Forrest writes, "Perhaps the coin was a talisman, thought to contain some sort of defending magic, or a shield, protecting the doll's heart, and so the child's."
Wow.  How cool is that!?
Ok, one more. I loved learning about them. And I personally found this next one educational when visiting the Southwest.  Living in the North East there aren't any cactus and so I realized after being pricked by one just how useful the following surely would have been.
When I first looked upon the 14" Apache doll with long flipped up shoes, they reminded me of a Clown's shoes.  I thought what the heck?  Forrest explained the shoes were, "boots with turned up toe flaps- that helped defend against the dreaded cholla cactus and other aggressive desert plants."
Oh….that's better.  Thank you. And let me get a pair of those for next time walking in the desert.
The above few 'secrets' offer excellent examples of how the Indian dolls are definitely more than mere toys to admire.  So much can be learned and gained from researching them.  The dolls mirror the lives, clothing, beliefs, etc of those who lovingly fashioned them.  They reveal treasures by exploring all of what they might have meant to a child and to the parent who helped create them during a time now lost.
But anyone with a passion for collecting knows the joy a 'crowd' can bring.  No matter what is being collected, stories are hidden within the prized group.  And these stories are a treasure to discover!
I asked Forrest, which was his favorite Indian Doll and why?
Jenny, I'm not sure which is my favorite, but my favorites are the Southern Cheyenne dolls. I have seven that I think were made by the same woman about 1870ish. Each has the distinctive style "signature" of the maker.
There is a comfortable warmth that comes with an old much-used doll that isn't evident in most other artifacts. For one thing, generally there is no violence in their history. When I was writing my doll book, late at night, I frequently placed one of the dolls beside me in my chair. A certain coziness came with the doll, and the practice seemed to stimulate my words and my thought processes. I'm not sure coziness is the right word, but I hope you know what I mean. f
Follow MW on Social Media: