Featured Question and Chatting with Forrest: Bronze and Iron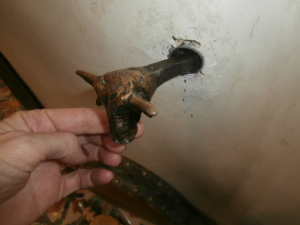 Dear Forrest,
You had mentioned that melding iron and bronze is difficult to do.  Would you explain a bit of the process on how it can be done and what makes them hard to marry?
Thanks so much, Jenny
Jenny, I like your use of the word melding instead of welding. Some would have used the latter in this context, which would have been incorrect, although debatable in some classrooms. I probably would not have thought to use your word, which is accurate, but arguable by those who are naturally bent to disagree.
Here is my take on the subject, and I offer it hoping no one will research my opinion. If I'm wrong please don't tell me because I'm too old to change my mind.
The laws of physics insinuate that joining a ferrous metal to a non-ferrous metal is difficult, but may be accomplished with the use of a heliarc, which uses an inert gas that keeps oxygen away from the joining process. When heated to a high temperature iron will start to oxidize before it melts, where bronze will not.
So the secret to marrying the two metals is to keep the iron from oxidizing, thus making the two compatible. The inert gas does that. That's my story and it always worked for me when I had a foundry, although some guys who are smarter than I am said I couldn't do it. f
(Here are some photos of iron fireplace pokers that I welded to bronze heads. The human head is the famous rodeo clown Emmett Kelly. The other one is a cow head. I cast both bronzes and wrought the iron pokers myself.)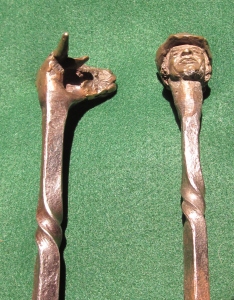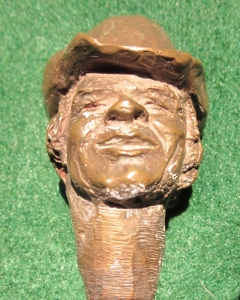 Follow MW on Social Media: