Chatting with Forrest: His Office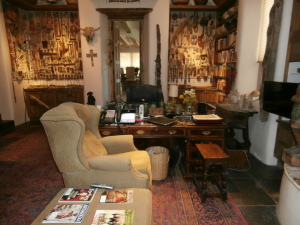 Forrest Fenn is known to invite seekers of his Thrill of the Chase Treasure into his home. My family and I were so blessed and fortunate to be one of these lucky people.  After meeting two of his best treasures, his wife Peggy, and daughter Kelly, Forrest led us into his office for a visit.
We felt like we were stepping into a sacred space.  Maybe because we were. The numerous artifacts, carefully and passionately displayed, from floor to ceiling, filling every available pause, gave off such powerful essences.  I knew each held significance.  Each had a story.  Each was valuable. Each was treasured by Forrest.
I asked Forrest 'what do you like to collect most?'  His answer was one I will never forget.  It touched me in such an inspiring way.  His answer wasn't a category, like coins.  It wasn't an era, like Medieval Artifacts. It wasn't a culture, like Egyptian items.  It wasn't an event, like WWII items.  It wasn't a value; anything could be worthy to be part of his collection.  Even the broken back scratcher.
Forrest's answer was; "I like to collect things that are unique.  Unique as in one of a kind."
I wouldn't say some of the things I collect weren't for the same reason. But his answer made me truly realize 'why' some things I collected are treasured most.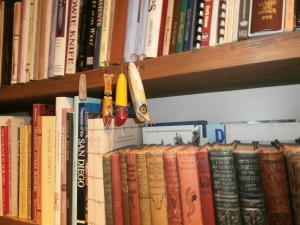 His Father's old fishing lures are unique.  One of a kind.  You knew they were treasured and belonged in his collection.  The same collection which includes Sitting Bull's peace pipe.  Both are priceless items.  I don't think we need to choose which is treasured more.  But we know from this example, the vast range of items his collection includes.
He went on to show us some other 'unique' things in his collection.  Many he has shared through Dal's scrapbooks, like Minerva or The Ballerina.  Many are also shared within the stories of the multiple books he has written, like the Indian Dolls (with actual human or animal hair) or San Lazaro Pueblo's Pottery.  To see these items up close certainly was a special treat.
It has been noted in the previous Q and A, the bottle of brandy sitting within the tiny space on his shelf.  One of a kind because it was given to him by Jackie Kennedy.  Although it sits quietly in the back, amongst other one of a kind items, you all saw it in the image.  It's in a perfect spot.
There is the Bison skull discovered with an arrowhead embedded within it and an old cross below.  Both one of a kind.
There is a fence post of Eric Sloane's.  One of a kind.  And Sloane's art palette too. Colorfully, one of a kind. (Forrest mentions this in his Seventeen Dollars a Square Inch book.)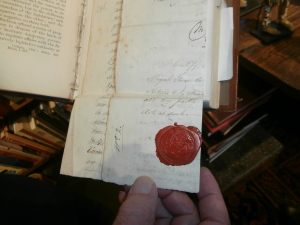 Forrest showed us his books.  Many made unique by the signatures, special papers, or a King's seal found within them.  All one of a kind for some reason or another.
The list could go on and on, and I hope to share more items in this 'Chatting with Forrest' series as time goes on.
It surely is one of a kind office…filled with a one of a kind collection…by a one of a kind gentleman.  It was a one of a kind visit.  One which I will be forever grateful for.  Thanks Forrest.  My family and I loved it.  A one of a kind memory and treasure.  Just like your One of a Kind Treasure Chest you have hidden for anyone to dare themselves to find!
Best of luck with whatever you seek!
For Spallies:
Follow MW on Social Media: