A Found Treasure of a Lost Childhood Joy by Carrie Aulenbacher
The following is a heartwarming 'Found Treasure' story from Carrie Aulenbacher.  Please leave comments for her below and visit her website; as if you love this story, you may find yourself lost in others over at Carrieaulenbacher.com.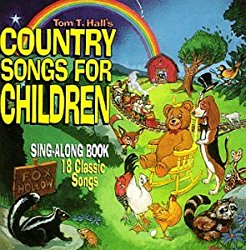 When I was young, I absolutely adored my grandparents and our weekly visits to their house.  After a family dinner, my grandfather would let me play his records in the front room.  For a young girl just discovering a world of music, it was a favorite treat.  From his vast collection, one in particular that stands out in my memory was my favorite, Tom T. Hall 'Country Songs For Children'.  Country music was big in our house and his funny songs fit right in at the time I grew up in the mid 80's.  I'd often find myself singing them during the week as I waited for the weekend.  They were sweet, funny, easy to remember…
As time went on, it got lost and I outgrew it. I discovered Johnny Cash through my father.  Over the years, I forgot the title of that early album by Tom T. Hall. I had convinced myself years later it had been a Johnny Cash album 'Everybody Loves A Nut'.  It was an equally light-hearted album of silly simple songs.  Ever have one of those memories of yours get crossed with something else in your mind?
Upon cleaning out my grandmothers estate many years later, all the vinyl in their home was given to me.  Eagerly, I quickly scanned the titles in search of that old Johnny Cash album I'd wistfully been sure was from my childhood.  But it wasn't there.  Polkas, Sinatra, Brad Swanson were all there…but no childhood album.  In the midst of hundred of titles, however, was a well loved Tom T. Hall record.  It didn't look familiar and I only put it on for a lark.
I was shocked to listen to it a lifetime later.  'Sneaky Snake' and 'Little Baby Goat' flooded my mind and reminded me that it hadn't been Johnny Cash after all!  To sit and listen to it all over again was as if I'd gone back in time.  I truly felt like I had gotten back a forgotten memory by going through those children songs.  There, in my den, I yipped along to 'Mysterious Fox Of Fox Hollow' like I was seven years old again!
When I got to 'I Care' the tears began to flow.  My father used to sing it to me when I was young, but he would change the words to 'Hi, Care' because my name is Carrie.  After a long day, he would come home and that would be the first thing he'd say to me.  "Hi, Care!"  In a sing-song way, just like the Tom T. Hall song.  I can barely type about it without getting wistful and hearing it, to this day, causes a tear to come to my eye.  There, in my hand, finally, was the link to that memory and how it all began.
I got back such a treasured memory through that old vinyl record.  I learned that Tom T. Hall has been an earlier influence on me than Johnny Cash, and maybe even a more fundamental one at that.  I was never as glad to have been mistaken over a memory as the day I found my favorite childhood record.
Thank you for sharing your beautiful and heartfelt memories, Carrie.  Gifts like those are some of the truest treasures.  I'm so glad you found the album, and that it continues to bring such joyful tears!  There are certainly days we need those.  Thanks again for sharing. 
Please visit: Carrieaulenbacher.com for more of her writings and adventures.

And if you have a Treasure Story to Share, please let me know!  (more info here: Share your Treasure Story)
Follow MW on Social Media: