1947: A Very Mysterious Year by Nate W. Beck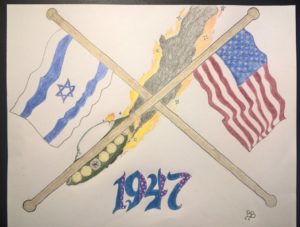 Every now and then, in addition to mysterious and unusual people, objects and places, one just notices some mysterious times and dates. Those times can include a strange day, a strange hour or, in this case, a very mysterious and strange year!
Over the years I have often thought about this year in history, 1947, and just how many pivotal and important things occurred, such as the U.N. recognizing the need for a Jewish State in Israel, Jackie Robinson becoming the very first black athlete in baseball, and President Truman fighting Communism and establishing the C.I.A.
In addition to those very important items, some strange and mysterious goings-on also occurred this year that should NEVER be forgotten!!! I would like to focus on a few:
The Black Dahlia
The body of a young woman, nicknamed the "black dahlia" by the Las Angeles Herald-Express, was found horridly mutilated in a vacant lot. Later identified as one Elizabeth Short, her story made national headlines!
Sadly, her murderer(s) were never caught, and no one was ever prosecuted for such a heinous crime. It's a sad reminder that we live in an all-too-scary world in which we must be on our guard. And to remind us of the mysterious fact that some crimes just never get solved and never see justice this side of Eternity!
U.F.O. At Roswell
After reading many books on this subject, if you want a "sho-nuff" government cover-up", then the U.F.O. crash at Roswell in June of 1947 is a definite one in my book. Being a believer in what I read in the Bible makes me certain that we are certainly NOT ALONE in the Universe, and there are definitely other creatures God has made that qualify as "mysterious"!
Whatever one may believe about the events at Roswell, and other far stranger accounts, the United States Air Force was definitely "UP (in the sky) to something" in 1947! The accounts of what happened to Nazi scientists after WWII makes for interesting reading as well! Check out Project Paperclip! The Crash at Roswell definitely began the U.F.O. craze!
A Dead Sea Discovery
This year in history, a very lucky Bedouin shepherd by the name of Muhammed edh-Dhib and some relatives chanced upon the oldest existing (that are known) copies of the Hebrew Bible (Old Testament) in a series of caves in the Dead Sea region of Palestine. What have become known as the Dead Sea Scrolls are certainly one of the most important discoveries for Christians and Jews alike and their historical and spiritual value are inestimable.
What's even more amazing is that the gap of time between the Dead Sea Scrolls and the oldest then extant copies of the Bible that were held in museums was close to 1,000 years. However the variations between the texts were so minimal that it proved how careful and zealous the ancient Jews had been in their preserving and copying of the scriptures. The later copies of the Book of Isaiah, for example, are practically identical to the Dead Sea Scroll copy! It's also fitting that such a discovery was made only a year before the State of Israel was founded in 1948!
The Kon Tiki Adventure
On April 28, 1947, Norwegian explorer Thor Heyerdahl set out to prove that ancient people from Peru, such as the Inca, were well able to sail across the Pacific Ocean to the Polynesian islands, using only basic sailing technology such as rafts. The eerie similarity between the physical features of the Easter Island Heads and the ancient Inca lends support to this theory. Not only was the expedition a success but it also proved that historians and anthropologists don't always know what the hell they're talking about, and rogue explorers such as Heyerdahl actually sometimes do!
Heyerdahl also filmed a successful documentary about the adventure that won him an Academy Award!
CONCLUSION
So, to simply call 1947 a very important year seems to be a gross under-statement! It was an extraordinary year, yes. It was a pivotal year, yes. It was A VERY MYSTERIOUS YEAR, ABSOLUTELY!!!
By MW Writer Nate W. Beck
1947 A Very Mysterious Year Sources:
The Kon-Tiki Expedition by Thor Heyerdahl, 1948.
U.F.O's and the Bible by Morris K. Jessup, 1956.
The Roswell Incident by Charles Berlitz and William L. Moore, 1980.
Secrets of the Dead Sea Scrolls by Randall Price, 1996.
America's 60 Greatest Unsolved Mysteries and Crimes, 2 Disc set, Mill Creek Entertainment, 2010.
Copyright 2017 by Nate W. Beck. All rights reserved.
Follow MW on Social Media: