10 Interesting Facts about the Monopoly Board Game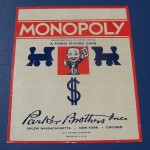 Monopoly is one of the best known board games across the world.  Although not included in one of the 10 interesting facts below, it is difficult to find someone who hasn't at least heard of the game- since it has been licensed in over 100 countries.  Many people have even played the game (just maybe not finished though).  What might not be known about the Monopoly board game, however, are the following 10 facts:
1)Winston Churchill Encouraged Monopoly Game Makers to Continue Production During WarTime (no matter what)
I love this first fact.  It shows how games are such a vital part to life.  It is known Winston Churchill asked Waddington's (maker/license holder of Parker Brother Games in Britain (including Monopoly)) to do whatever needed to keep production of games going.  It was Churchill's goal to provide and keep available pleasant diversions to lessen the burdens of war as much as possible.
George Parker felt the same way. During the Wars, George Parker, of Parker Brothers, was dedicated to supporting and uplifting people of not only America, but all across the world through the play of games.  This is best shared by the inside cover of one of his catalogs published during World War II.  Parker wrote:
Twenty five years ago, the USA was fighting a war that was the worst the world had ever seen.  Today we are fighting an all out war that dwarfs the last one.  Our every effort must go towards winning the struggle that threatens to engulf us.
Parker Brothers' games played their part through 1917 and 1918, keeping up the spirit of the men in the various services, and today our games are being played wherever our troops are stationed.
We are adhering to our ideal that Parker Games must 'Look well, play well, and sell well,' and while curtailment of essential materials will eventually necessitate minor changes in some games, the playing qualities of the games will not be changed.
At home, people are turning more and more to games to pass away time formerly spent in other pleasures.  We will do our part to see that Parker Games are worthy of the trust that over two generations have placed in the games that are 'The Standard of Excellence'.
Monopoly was one of those proud games.
2)The Monopoly Game Aided Prisoners to Escape Safely During World War II
So honorable and played was Monopoly during wartime that it was also used in a Top Secret Mission to help Prisoners of War escape.  The British Intelligence worked with the Monopoly game makers to secretly insert compasses and maps, which revealed routes for safe passage, into carved out places on the Monopoly boards.
These were then covered over with the game's labels, and the hidden tools for escape went undetected.  Real money of various currencies was also mixed in with the play money of the game.  Prisoners receiving the games were then able to plan for a safe and successful escape.  It is not known how many of the 35,000 POW's who escaped during that time owe it to the Monopoly game, but if only one, the effort was worthy.
3) The History of Monopoly Pieces Reveals First Games Didn't Include Game Tokens
It is funny to think how later games of Monopoly were made to include secreted objects, but the first games didn't even come with its own game pieces for players to use.
You were to find your own small object to use as a game piece.  To the right are directions noting such.  They say in the third section under Set up Your Monopoly;"…see that each player is provided with some token (Key, Ring, etc.)…."
4) Some of the First Monopoly Pieces Were Charms
Interesting too are the numerous Monopoly pieces to finally appear in games.  It's likely the action of having to find your own game pieces inspired some of selections for game pieces to appear in games later on.
The Thimble was a small household object and an ideal size to use as a game piece. It's thought many players used a Thimble after looking around the house for a small game piece to move across the board.
When Parker Brothers finally decided to add game pieces to their games, it's possible the Thimble was included for this reason.  Maybe a doll's hat and shoe were found to be used too and carried over. (Monopoly's first game pieces were the Thimble, Cannon, Iron, Hat, Shoe, and Boat (car shown left came later))
Some of the earliest Monopoly games, however, are found to include holes in some of their game pieces.  It is believed players had also chosen to use Charms as pieces, and so again, when Parker Brothers placed their own game tokens in boxes, they added some Charms, til they made their own tokens replicating and replacing the Charms.
5) Not all Monopoly Game Pieces are Metal
During the War, and as noted in the above statement by Parker, supplies for games couldn't always be found.  All nonessential use of metals was imposed by the Government during the war. The lack of Metals to make the game pieces forced Parker Brothers to create tokens out of wood and bakelite.
The usage of this material had occurred earlier too.  It came way of when such a high demand for the game in the 30's caused a delay in production of metal tokens.  Parker Brothers couldn't keep up with growth, and so used those alternatives.
It's in the bakelite material that the elephant and some of the more curious and crudely shaped Monopoly game tokens are found.  A Pig, Train, and first appearance of a Dog were in bakelite.
6) The Monopoly Money Was Once Hand Cut: All $15,140 of it (now $20,580)
Can you believe, Monopoly money was once found to be cut faster by hand, and so was. All $15,140 dollars in each game.  In the book, The Game Makers (2004) by Phil Orbanes, he writes about the changing production process of Parker Brothers.  Within this section is included, "They advocated using an automated cutting machine to slice sheets of Monopoly money. But Fred French, honed by years of experience, manually cut the bills faster than the proposed machine.  Monopoly money was, and would continue to be, cut by eye and hand until the present day."
7)  Monopoly's Most Expensive Game Includes Hand Cut Diamonds
Monopoly games have come in all shapes and prices.  Even chocolate.
One of the first Monopoly boards made in the early 1930's by Charles Darrow, was circular and of cloth.  At auction in 1992 this cloth board brought almost $65,000 and rests in The Forbes Magazine Collection in NYC, with other early Monopoly games.
But the most expensive Monopoly game is said to be worth 2 million dollars.  The value comes not from the historical nature of the board, but from the elements used to make the Monopoly game.  For example, the Monopoly Dice of the game include cut Diamonds to denote numbers. The pips are diamonds. All 42 of them.  The game board of 23 carat gold also boasts of sapphires and rubies atop the houses and hotels.  It was made in 1985 to celebrate Monopoly's 50th anniversary.
8) Monopoly's Play Originated from The 1903 Landlord Game
It is now known, Monopoly's origins stem from the 1903 Landlord game by Lizzie Phillips, and not fully 'invented' by Charles Darrow who is most commonly awarded with its creation.
However, it was Darrow who gave it the visual appeal and believed in the game to Market it widespread- even after the large game companies rejected its worth.
Like in many things, it is the person who perseveres, has the courage to believe, sees the bigger picture, and provides a different twist, that make things happen.  Shown right is one of the first board games. It has Darrow's Name in the Jail Space.  It's from my collection.
9) In 1936 Parker Brothers Sold Over One Million Monopoly Games
Parker Brothers finally realized Darrow had a winner in 1935, after first rejecting it, and decided to buy the rights to Monopoly from him. They had purchased Darrow's remaining inventory of around 7500 games and sold them almost immediately.  The 1935 Christmas season came in with selling around 250,000 games total.  Demand did not stop there, and the following year, in 1936, Parker Brothers sold over 1 million games of Monopoly.  Not bad for the times.
Interesting to add here though.  While Waddington's of Britain, who licensed to sell Monopoly aboard in the UK and France did extremely well in sales, the German game company did not.  The reason for this is because, the games abroad utilized their own property names, and the most valuable property of the Germany based game was Insel Schwanenwerder. This was home to many of the Nazi Leaders, and people demanded the game be taken off shelf.
10) Monopoly Helped Save Parker Brothers from Financial Disaster During the Depression
Who would have thought a game, during the depression, would have such a success. But it is the role and play of the Monopoly game that provided Parker Brothers with the financial success to last through the Depression.
Playing the game, like during the time of war, offered not only a diversion from the difficult times, but provided hope and excitement to those who played and 'lived' the game.  It would be interesting research to know if any players believed in their dreams to 'overtake and win', and went on to do so, because of playing Monopoly and finding that spark.
Sources:
Walsh, Tim, Timeless Toys, Andrews McMeel Publishing, 2004
Orbanes, Phil, The Game Makers, Harvard Business School Publishing, 2004
Follow MW on Social Media: